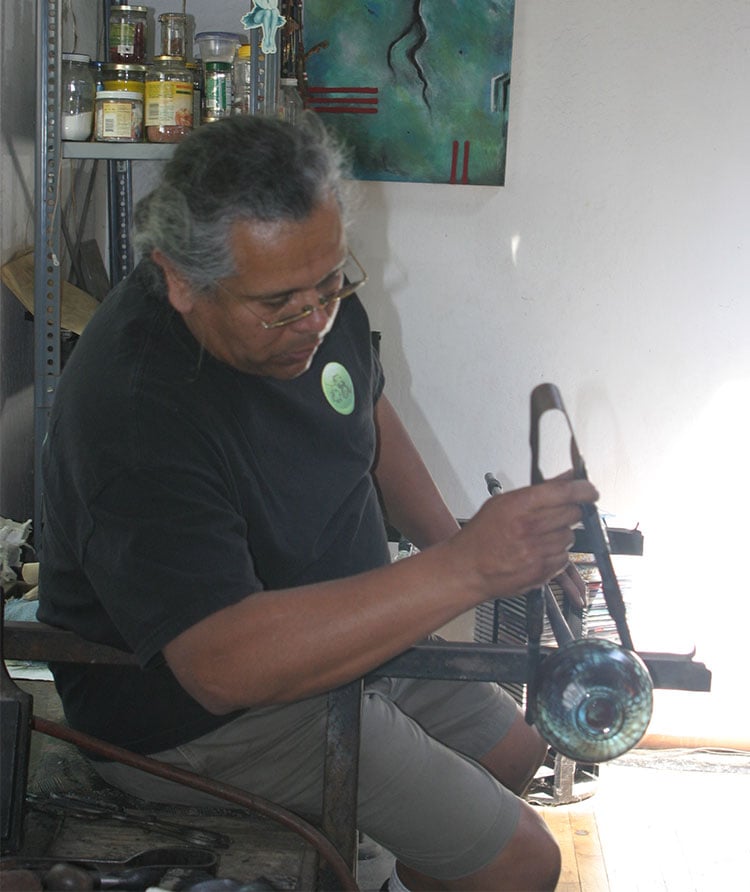 David Salazar has been a glassblower and designer for over 50 years. He began in 1972 at Lundberg Studios in Davenport, California. Using new techniques to decorate glass, he eventually became their chief designer. Some of his pieces during this period were exhibited at the Corning Museum of Glass.
It was during this time that he became associated with Larry Selman, one of the foremost paperweight dealers in the world. David's work has been featured in many of Selman's catalogues, as well as books for the paperweight collector. David also exhibited pieces at the Tiffany Exhibit for the Museum of Art in Chicago.
In 1981, David left Lundberg's to form his own studio.  David's work in miniatures led to doing marbles in flower and sea life patterns, as well as traditional swirls. His Angelfish marble was featured in the April 1988 issue of the Smithsonian Magazine. Today, his marbles are some of his most popular items, and he carries over 30 different kinds.  His work is featured in many periodicals and reference books, including Marilyn Barrett's book, Immies, Aggies, Shooters and Swirls, The Art of the Paperweight by L.H. Selman, and Mark Block's, Contemporary Marbles and Related Art Glass.
David also designs classical style vases, bowls, and tumblers, primarily in the Art Nouveau fashion.  Some of his pieces are in styles reminiscent of Tiffany and Van Gogh.  Other niche markets that he has expanded into are toothpick holders for collectors, pumpkins in various colors and sizes, and glass hearts.
Some of the galleries and stores that carry David's work are Carlyn Gallerie in Dallas, Texas, The Real Mother Goose in Seattle, Washington, the Whaler in Maui, Indigenous Gallery in Cincinnati, Ohio and Made in Santa Cruz.
His work is represented in the permanent collection at the Corning Museum of Glass. David also created a commemorative piece for the Bergstrom-Mahler Glass Museum's 50th Anniversary. He was the guest speaker at the Amana, Iowa National Marble convention, and a guest speaker at the Wheaton Village Glass conference in New Jersey.  David's work has been sold in many galleries throughout the country, including Made in Santa Cruz, The Whaler Gallery in Maui, and The Real Mother Goose in Seattle.